BENTON HARBOR — Like most choreographers, Lari Lawrence-Gist always wanted to take a crack at one of history's most famous ballets.
"Doing 'The Nutcracker' had always been on my bucket list and I never really had an in," she says. "I didn't want to do the classical version and I didn't know what I wanted to do. Then this opportunity came along because I was doing (my original ballet) 'Steamed' at the time and this whole steampunk world that I was living in started to come into play. That first year, I think I tried too hard to keep it as traditional as I could while developing a different story. Last year, I took it a lot farther, and this year, for sure, I've been able to let go of some of those cliches."
With more than 40 dancers, and a 30-piece professional symphonic orchestra once again conducted by Steven L. Reed, The Citadel Dance & Music Center presents the latest incarnation of Lawrence-Gist's "A Steamed Nutcracker" with two performances Saturday at the Lake Michigan College Mendel Center Mainstage Theatre.
For this third annual telling, Lawrence-Gist, the dance director at The Citadel Dance & Music Center, has tweaked the story, which is still anchored in the steampunk movement – an aesthetic based on 19th-century industrial steam-powered machinery – but delves deeper into the characters she first introduced in her original production, "Steamed," with more colorful costumes, and original choreography all set to Pyotr Ilyich Tchaikovsky's original, full score.
"I did not rewrite the whole thing, so that's a good start," Lawrence-Gist says. "I have taken the plotline a little bit farther and made a little more of a love triangle with two of the main female characters and The Nutcracker character. I didn't re-choreograph too much, I've just been adding a little bit, which has kind of been my goal every year – to add a little bit more to the ball and make it a little bit more exciting and visually interesting. I did update some costuming, so there will be a little bit more color on stage. It's all a little bit more vibrant, a little more exciting, a little more detailed. The best thing about doing this show over and over is that we get to keep improving it."
The traditional two-act ballet, "The Nutcracker" was originally choreographed by Marius Petipa and Lev Ivanov with a score by Tchaikovsky, whose libretto was adapted from E. T. A. Hoffmann's story "The Nutcracker and the Mouse King," by way of Alexandre Dumas' adapted story "The Nutcracker." It was given its premiere at the Mariinsky Theatre in St. Petersburg, Russia on Dec. 18, 1892. While Tchaikovsky's score has become one of his most famous compositions, in particular the pieces featured in the 20-minute suite, choreographer George Balanchine's New York City Ballet version in 1954 led to the ballet becoming a popular fixture in the United States.
While Lawrence-Gist's story runs parallel to that of those classic versions, "A Steamed Nutcracker" tells a completely new tale that begins when a young woman, Sansa, portrayed this season by Bridgman High School senior and senior company member Paige Mulick, along with the help of her little sister, Fiametta (St. Joseph High senior Reagan Lifferth), hosts a holiday ball inside her zeppelin.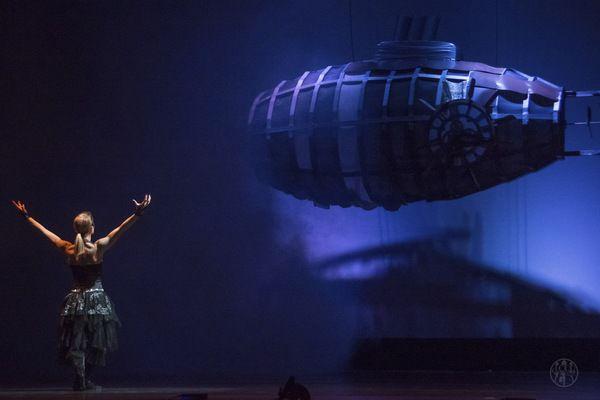 At the party, Sansa and her best friend, Cora (St. Joseph senior Rachel Kurland), encounter a handsome soldier, aka The Nutcracker Prince (Western Michigan University Dance alumni Michael Smith-Davenport). Despite Cora's best attempts to beguile him, he falls in love with Sansa instead.
The party is interrupted by a soothsayer known as The Seer (Lawrence-Gist), who warns of a plot to kidnap Sansa, but the young heroine, who has encountered The Seer before, is done listening to prophecies.
When pirates break into the party to kidnap Sansa, it is revealed that Cora, blinded by jealousy, is actually The Pirate Queen, and an epic battles ensues. During the battle, Sansa and The Pirate Queen fall, but The Seer, with the help of her angels who freeze time, is able to revive the heroine, leaving her in a deep sleep.
The second act largely takes place in Sansa's unconscious mind as she dreams of unforgettable characters such as cyborgs, a flock of three-eyed ravens, and timekeeping white rabbits. In the end, Sansa wakes and realizes her mistake, but is it too late to gain forgiveness from the one who has been guarding her all along?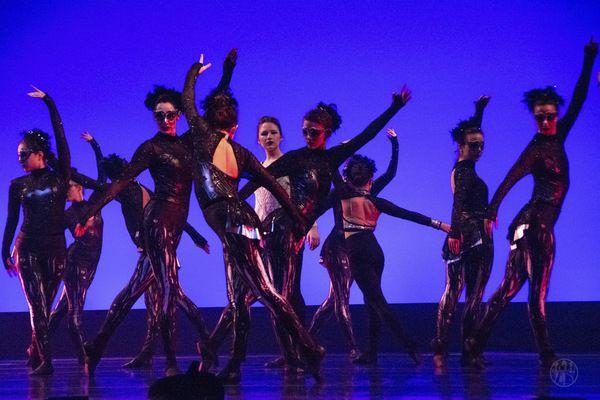 The lead roles in Saturday's matinee will be performed by understudies St. Joseph senior Oliviana Moreno (The Seer), Berrien Springs junior Artemisia Johnson-Stanish (Sansa), St. Joseph sophomore Nikki Chapman (The Pirate Queen) and St. Joseph freshman Savana Glisson (Fiametta).
"Each time I cast the show, the lead characters help develop the story," Lawrence-Gist says. "They add another layer to these characters. That's where I get the inspiration to add choreography just from what I am getting from those students, which is so cool. This year, Paige is Sansa, and her acting skills are much more advanced than others who have played the role thus far. So that's been fun to play with."
"A Steamed Nutcracker" will be danced by students ages 3-40 and, unlike "The Nutcracker" goes beyond ballet to include many different genres of dance. Like more traditional versions, however, the music is pure Tchaikovsky. In addition to Reed, the orchestra is made up of members of The Citadel Music faculty, and professional orchestra members throughout the region, including the Southwest Michigan Symphony Orchestra.
"I'm really excited to have Steve Reed back for a third year in a row knowing that he knows this show so well," Lawrence-Gist says. "And Larry Schanker is playing (keyboards) so that's a huge treat for the audience. Every year, I hear from the musicians how great an experience it was and how much fun they had. ... I think that's how we all look at it. It's a lot of work, but it's a lot of fun to put this on for the community."